Effectiveness of Homoeopathy in Tinea corporis and Tinea cruris – A Prospective, Longitudinal Observational Study
Research Article- DOI: 10.23953/cloud.ijaayush.488
Keywords:
Homeopathy; Dermatophytoses; Fungal infection; Observational study
Abstract
Dermatophytoses refers to superficial fungal infection of keratinized tissues caused by keratinophilic dermatophytes. According to observations worldwide, dermatophytoses are the most common of the superficial fungal infections. It is common in tropics and may present in epidemic proportions in areas with high rates of humidity. This prospective, longitudinal, observational study was conducted at SKHMC, Jaipur for a period of 1 year (April 2018 to March 2019), aiming to ascertain the effectiveness of homoeopathic medicines in the treatment of Tinea corporis and Tinea cruris. In this study, 65 cases of Tinea Infection (33 cases of Tinea cruris & 32 cases of Tinea corporis) were treated with homoeopathic medicines prescribed on the basis of totality of the symptoms. Treatment outcomes were assessed using Clinical Symptom Score, designed for this study & approved by Institutional Ethical Committee. Out of 65 patients, 41 patients (63.1%) got improved; 19 patients (29.2%) were at status quo and 05 patients (07.7%) became worse. Maximum patients were found to be in the age group of 11-40 years (n=50; 76.9%). Males were observed to be affected more as compared to females. Paired t-test was conducted on the Clinical Symptom Scores obtained before and after treatment and the result showed that p value is < 0.05 & value of t (11.623) is greater than the tabulated value in t-table at df = 64 (1.997), which was statistically significant and which also concluded that homoeopathic medicines were effective in treating Tinea corporis and Tinea cruris.

Keywords Homeopathy; Dermatophytoses; Fungal infection; Observational study
DOI: https://doi.org/10.23953/cloud.ijaayush.488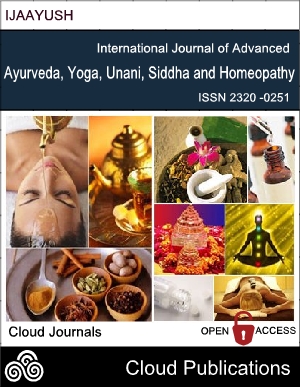 Downloads
How to Cite
Gupta, Y. ., Tuteja, S. ., Acharya, A. ., & Tripathi, V. . (2021). Effectiveness of Homoeopathy in Tinea corporis and Tinea cruris – A Prospective, Longitudinal Observational Study: Research Article- DOI: 10.23953/cloud.ijaayush.488. International Journal of Advanced Ayurveda, Yoga, Unani, Siddha and Homeopathy, 10(1), pp. 618–627. Retrieved from https://cloudjl.com/index.php/Ayurveda/article/view/32
License
Copyright (c) 2021 Yogeshwari Gupta, Sonia Tuteja, Ankita Acharya, Vikrant Tripathi
This work is licensed under a Creative Commons Attribution-NonCommercial-NoDerivatives 4.0 International License.