Scope of Homoeopathic Management in Common Skin Diseases
Research Article- DOI: 10.23953/cloud.ijaayush.492
Keywords:
Skin Diseases; Homoeopathy; Individualization; Constitution; Vital Force
Abstract
To look attractive our skin must look healthy because the best foundation you can wear is healthy, glowing skin. Skin is the first line of defence in our body against the external environment. Homoeopathy has wide range of scope for the treatment of skin diseases. The homoeopathy believes in holistic concept of disease i.e., not only the part is diseased but a person as a whole. When the vitality is disturbed by any inimical dynamic morbific agent, it makes its appearance by morbid sign and symptoms. They assume all parts of organism are connected together to form an invisible whole in sensations and functions. Homoeopathy does not recognize diseases with their names but every
disease as a whole new individual personality. The scope of homoeopathy in the cure of skin diseases based on its constitutional and individualizing concept.

Keywords: Skin Diseases; Homoeopathy; Individualization; Constitution; Vital Force
DOI: https://doi.org/10.23953/cloud.ijaayush.492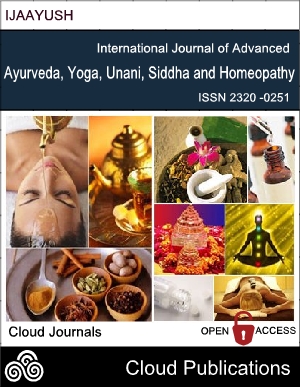 Downloads
How to Cite
Arti. (2021). Scope of Homoeopathic Management in Common Skin Diseases: Research Article- DOI: 10.23953/cloud.ijaayush.492. International Journal of Advanced Ayurveda, Yoga, Unani, Siddha and Homeopathy, 10(1), pp. 633–641. Retrieved from https://cloudjl.com/index.php/Ayurveda/article/view/34
License
Copyright (c) 2021 Arti
This work is licensed under a Creative Commons Attribution-NonCommercial-NoDerivatives 4.0 International License.