Gout & Its Homoeopathic Approach
Abstract
Gout is a metabolic disease that most often affects middle-aged to elderly men and
postmenopausal women. This is characterized by pain and swelling of the first metatarsophalangeal
joint initially, followed by other joints, with an abnormal elevation of urate level in the body either due
to over production (10%) or under excretion (90%) or some time both. Homoeopathic remedies are
effective in treating acute as well as chronic gout and also help in reducing the uric acid levels, thus
preventing further attacks and other complications of hyperuricemia.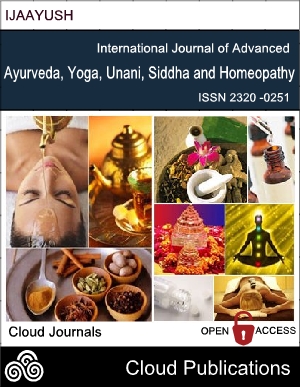 Downloads
How to Cite
Kumar , N. . (2022). Gout & Its Homoeopathic Approach. International Journal of Advanced Ayurveda, Yoga, Unani, Siddha and Homeopathy, 11(1), pp. 669–673. Retrieved from https://cloudjl.com/index.php/Ayurveda/article/view/42
License
Copyright (c) 2022 Nitesh Kumar
This work is licensed under a Creative Commons Attribution-NonCommercial-NoDerivatives 4.0 International License.