A Case of Osteoarthritis Treated by Homoeopathic Constitutional Medicine: A Case Study
Case Study: DOI: 10.23953/cloud.ijaayush.516
Abstract
Abstract Osteoarthritis is now a burden disease in the whole world, it effects person daily activity &
causing impairments. It is the major public health challenge to the population. Homoeopathy
although widely used in Osteoarthritis, is assumed to have nothing significant but placebo effects
and Its specific clinical effects are frequently ascribed as implausible. In this article, I briefly discuss
on osteoarthritis and a case, which was treated by Homoeopathic medicine.
Keywords Osteoarthritis; Homoeopathy; Rhus-Toxicodendron
DOI: https://doi.org/10.23953/cloud.ijaayush.516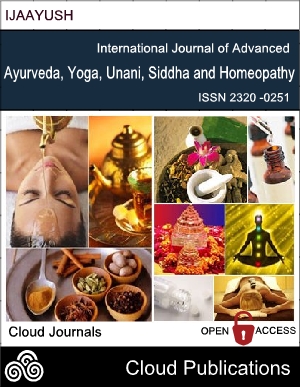 Downloads
How to Cite
Kumar, R. . (2022). A Case of Osteoarthritis Treated by Homoeopathic Constitutional Medicine: A Case Study: Case Study: DOI: 10.23953/cloud.ijaayush.516. International Journal of Advanced Ayurveda, Yoga, Unani, Siddha and Homeopathy, 11(1), pp. 685–689. Retrieved from https://cloudjl.com/index.php/Ayurveda/article/view/44
License
Copyright (c) 2022 Ram Kumar
This work is licensed under a Creative Commons Attribution-NonCommercial-NoDerivatives 4.0 International License.