Hyperlipidemia: Etiology and Possible Control Through Homoeopathic Remedies
Research Article- DOI: 10.23953/cloud.ijaayush.518
Abstract
Hyperlipidemia is a condition characterized by an elevation of any or all lipid profile and/or lipoproteins in the blood. Hyperlipidemia is the most important atherosclerotic risk factor. Review of population-based studies in India shows increasing mean total cholesterol levels. Recent studies have reported that high cholesterol is present in 25–30% of urban and 15–20% rural subjects. This prevalence is lower than high-income countries. The most common Hyperlipidemia in India are borderline high LDL cholesterol, low HDL cholesterol and high triglycerides. Studies have reported that over a 20-years period total cholesterol, LDL cholesterol and triglyceride levels have increased among urban populations. Homoeopathy can play vital role not only in prevention and promotion but also as treatment in pre-clinical condition of borderline high-risk lipid levels and clinical condition of Hyperlipidemia with the proper use of Repertory and Homoeopathic materia medica.
Keywords Lipoproteins; hyperlipidemia; hypercholesterolemia; Arteriosclerosis; Atherosclerosis; Cholesterol; Homoeopathy
https://doi.org/10.23953/cloud.ijaayush.518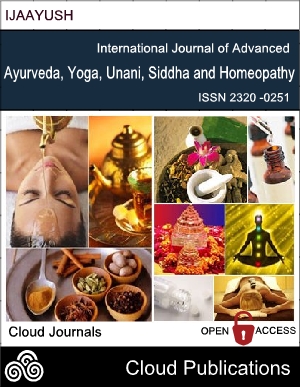 Downloads
How to Cite
Singh, P. K. . (2022). Hyperlipidemia: Etiology and Possible Control Through Homoeopathic Remedies: Research Article- DOI: 10.23953/cloud.ijaayush.518. International Journal of Advanced Ayurveda, Yoga, Unani, Siddha and Homeopathy, 11(1), pp.696–700. Retrieved from https://cloudjl.com/index.php/Ayurveda/article/view/47
License
Copyright (c) 2022 Pravin Kumar Singh
This work is licensed under a Creative Commons Attribution-NonCommercial-NoDerivatives 4.0 International License.