A Prospective Non-Controlled Clinical Trial of Individualised Homoeopathic Treatment in the Management of Fibroadenoma of Breast
Research Article
Abstract
Fibroadenoma as a disease has no particular etiology but most of the times it is said to be hormone dependent. Again, the hormonal imbalance is indirectly related to the stressful environment which today's women face, managing a home and a career. The conventional system of medicine recommends an excisional biopsy as treatment, after confirmatory biopsy to rule out malignancy. The other alternative treatments include removing the lump with the needle and destroying the lump without removing it (such as freezing called as cryoablation.) But in spite of these procedures there is always a chance of recurrence in the patient. The patient may also have bleeding and scarring due to these procedures. Merely treating an individual symptomatically has failed in the other system of medicine, to give permanent relief. In such a clinical condition Constitutional approach of homoeopathic medicines is taken up for the study.
The objectives of the study
To know the efficacy of constitutional treatment in fibroadenoma.
To study the role of constitutional remedies in the treatment of fibroadenoma.
Results and conclusion - This study includes clinical profiles of 30 patients, suffering from Fibroadenoma of breast. Constitutional homoeopathic medicines were administered with a view to reveal their effectiveness. The most indicated constitutional remedy, Conium covered with incidence of 13.33% with 4 cases of all the patients, then followed by Pulsatilla 10% with 3 cases. Bryonia, Silicea, Calc carb, Phytolacca, Sulphur, Lachesis covered 6.67% with 2 cases each. Sepia, Hydrastis, Iodum, Plumbum met, Bromium, Ignatia, Thuja, Graphites, Calc flour, Calc phos, Phosphorus with incidence of 3.33% with 1 case each. Intercurrent Remedy where Thuja was having highest incidence of 13.33% in 4 cases, Sulphur Tuberculinum, Syphilinum, Psorinum having 3.33% incidence each. Analysis of the result showed that out of 30 cases, 2(6.67%) recovered, 25(83.33%) improved and 3(10.00%) did not show any improvement. The results of this study have proved that the Homoeopathic medicines can definitely render immense benefit in cases of Fibroadenoma of breast when employed logically and judicially within the fabric of homoeopathy.
Keywords Fibroadenoma of Breast; Benign tumours; Fibroadenoma; Tumours; Constitutional; Individualisation; Miasms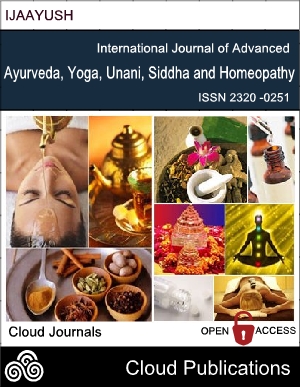 Downloads
How to Cite
Kharmujai, D. B. ., & Bera, M. N. . (2022). A Prospective Non-Controlled Clinical Trial of Individualised Homoeopathic Treatment in the Management of Fibroadenoma of Breast: Research Article. International Journal of Advanced Ayurveda, Yoga, Unani, Siddha and Homeopathy, 11(1), pp.720–735. Retrieved from https://cloudjl.com/index.php/Ayurveda/article/view/53
License
Copyright (c) 2022 Dariker Bateilin Kharmujai, Mukta Nivedita Bera
This work is licensed under a Creative Commons Attribution-NonCommercial-NoDerivatives 4.0 International License.