Cervical Spondylosis Management through the Spactacles of Homoeopathy
Research Article- DOI: 10.23953/cloud.ijaayush.506
Keywords:
Cervical spondylosis, Case-taking, Homoeopathic medicine
Abstract
Cervical spondylosis is one of the commonly seen diseases nowadays. Neck pain, which usually arises from diseases of the cervical spine & soft tissues of the neck, is common. "SPONDYLO" is a Greek term, meaning "Vertebra" & spondylosis generally mean changes in the vertrbral joint characterized by increasing degeneration of the intervertebral disc with subsequent changes in the bones & soft tissue. The management of cervical spondylosis is very much effective with Homoeopathic medicine. This article stress upon the risk factor, pathophysiology, symptomatology, investigation in concise manner as well as emphasises how homoeopathy can manage in such cases by its holistic approach of treatment.

Keywords: Cervical spondylosis, Case-taking, Homoeopathic medicine
DOI: https://doi.org/10.23953/cloud.ijaayush.506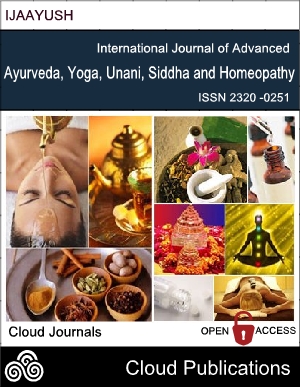 Downloads
How to Cite
Bhushan Singh, S. ., & Prakash, R. . (2021). Cervical Spondylosis Management through the Spactacles of Homoeopathy: Research Article- DOI: 10.23953/cloud.ijaayush.506. International Journal of Advanced Ayurveda, Yoga, Unani, Siddha and Homeopathy, 10(1), pp. 649–655. Retrieved from https://cloudjl.com/index.php/Ayurveda/article/view/36
License
Copyright (c) 2021 Shashi Bhushan Singh, Ravi Prakash
This work is licensed under a Creative Commons Attribution-NonCommercial-NoDerivatives 4.0 International License.