Vitilogo: A Social Stigma & It's Homoeopathic Approach
Research Article- DOI: 10.23953/cloud.ijaayush.507
Keywords:
Vitiligo; Homoeopathy; Repertory
Abstract
Vitiligo is chronic disorder of the skin characterized by white spots and patches. Lesions may remain stationary, self – healing or progressive or recurrence may occur. It mainly affects young adults and it can become a problem of beauty. Incidence of the disease is increasing day by day. There is no particular treatment for vitiligo in modern medicine and has only suppressive treatment. So, to give total cure & to study the efficacy of homoeopathy. This article stress upon the risk factor, pathophysiology, types, management in concise manner as well as emphasises how homoeopathy can manage in such cases with the use of repertory, miasmatic approach.

Keywords: Vitiligo; Homoeopathy; Repertory
DOI: https://doi.org/10.23953/cloud.ijaayush.507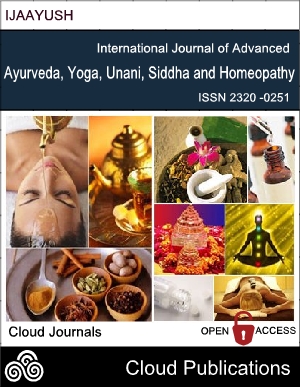 Downloads
How to Cite
Singh, I. ., & Prakash, R. . (2021). Vitilogo: A Social Stigma & It's Homoeopathic Approach: Research Article- DOI: 10.23953/cloud.ijaayush.507. International Journal of Advanced Ayurveda, Yoga, Unani, Siddha and Homeopathy, 10(1), pp. 656–662. Retrieved from https://cloudjl.com/index.php/Ayurveda/article/view/37
License
Copyright (c) 2021 Indira Singh, Ravi Prakash
This work is licensed under a Creative Commons Attribution-NonCommercial-NoDerivatives 4.0 International License.