About the Journal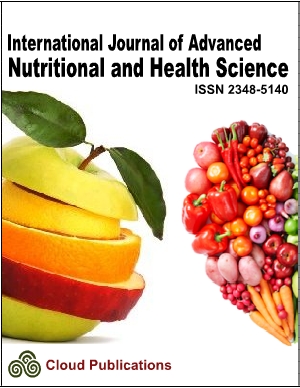 IJANHS ISSN: 2348-5140
IJANHS DOI: 10.23953/cloud.ijanhs
IJANHS Mode: Open Access
Published Article Indexing: Crossref, Google Scholar, ResearchGate, Microsoft Academic, Mendeley (ELSEVIER), Scilit (MDPI), Academia.edu etc....
Nutrition is life because good nutrition results in good health ultimately keep alive life. Advancements in nutrition are possible through intense and resultative research occurring among various and associated branches of nutrition. Furthermore, advanced nutrition flourishes health science. Qualitative-Resultative research contributions could facilitate the nutrition and health sciences for the betterment of society. In this regard International Journal of Advanced Nutritional and Health Science strive to publish the research archives revolving around nutritional and health-related aspects with taking care of the human scenario.
(IJANHS) Nutritional and Health Science journal encourages the research towards latest developments in all experimental processes and theories of nutrition and health sciences aiming for flourishing nutritional and health science community and the public in general. 
International Journal of Advanced Nutritional and Health Science (ISSN 2348-5140) is an open-access peer-reviewed scholarly journal publishes original research papers, reviews, case study, case reports, and methodology articles in all aspects of Nutrition and Health Science including associated fields. The journal uses an online journal system from manuscript online submission to peer review process. The author may track their submission's progress throughout the publishing process using a user-friendly online journal system. All submitted manuscripts initially evaluate by one of the selected editors of the journal and if met within the scope finally suitable subsequently forwarded to independent, anonymous expert referees for single-blind peer-review. This Journal commits to working for quality and transparency in its publishing by following standard Publication Ethics and Policies.

Nutrition and Health Science journal covers wide areas of interest, but are not limited to, the following areas:
Clinical Nutrition
Nutrition: Protein, Fats, and Carbohydrates
Nutrition: Vitamins and Minerals
Animal Physiology/Nutrition
Applied Enzymology
Applied Separation Technology
Bacteriology
Biomanufacturing Science
Biopharmaceutical Processes
Bioprocessing
Biostatistics
Celery Nutrition
Clinical Nutrition
Critical Care Nutrition
Developmental Nutrition
Exercise Science
Fitness for Life
Food & Healthcare Biotech
Food Additives
Food and Environmental Science
Food and Healthcare Toxicology
Genetically Modified Organisms
Health Counseling
Health Nutrition
Health Policy
Health Products Regulation
Health Survey
Health Systems and Services
Healthy Communities
Human Anatomy and Physiology
Human Nutrition
Immunoanalysis
International Public Health
Malnourishment
Medical Devices
Metabolic Regulation
Molecular and Biochemical Nutrition
Molecular Nutrition
Nutrigenomics, Epidemiology
Nutrition & Population Health
Nutrition and Diabetes
Nutrition and Dietetics
Nutrition and Exercise
Nutrition and Food Sciences
Nutrition and Infectious Disease
Nutrition and Processing
Nutrition Economics
Nutrition Education
Nutrition Epidemiology
Nutrition for Disease Prevention
Nutrition in Aging
Nutrition in Clinical Practice
Nutrition in Developing Countries
Nutrition in Health and Disease
Nutrition in Public Health
Nutrition Issues in Developing Countries
Nutritional Analysis
Nutritional Aspects of Eating Disorders
Nutritional Epidemiology
Nutritional Therapeutic
Nutritionist & Dieticians
Oatmeal Nutrition
Obesity and Weight loss
Obesity Prevention and Behavior Nutrition
Packaging
Pathophysiology
Pediatric Nutrition
Pharmaceutical Microbiology
Potato Nutrition
Product Formulation and Process Development
Quality Management Systems
Regulation of Medical Technologies
Sensory Evaluation
Sports Nutrition

Advanced Nutrition and Health Science

Advanced Clinical Nutrition
Advanced Nutrition: Protein, Fats, and Carbohydrates
Advanced Nutrition: Vitamins and Minerals
Advanced Nutritional Technology
Diabetes Nutrition
Health Science and Nanoscience
Latest Experiments and Theories
Nanopharmaceuticals and Nutrition
Nutrition and Critical Illnesses
Nutrition and Health Science Awareness
Nutrition and Nanotechnology
Nutrition and Skin Care
Nutrition Products
Nutritional Food
Nutritional Supplements
Online Nutrition & Health
Stress Management
Weight Management