Design Application (A Case Study of Redefinition of Bacardi Rum Packaging)
Case Study
Abstract
Perception of users towards any product is vital. There are many brands which sell same or similar things. Many times, the similar products by different brands are placed under the same roof, i.e. marts/ departmental stores. The quality of the products and the brands are crucial aspects in retaining the users (who repeatedly use the product). However, packaging plays a significant role in attracting the user's attention/ influencing their subconscious awareness. It acts as a tool to connect subconsciously with the users through emotions. In this research work a hypothetical design project was undertaken to map the problems, aspirations of the users, studying user interface of Bacardi Black Rum packaging (bottle). Manufacturing cost of the existing packaging(bottle) is assessed and focus group discussion is done prior to developing concepts. The design philosophy was to redefine the packaging keeping in view that the packaging should have the language to reach out to the users and be larger than life/ iconic as well as enhance the user experience. The effort and the outcome of the intervention is perceived as an opportunity to attract consumers to introspect the value for money by any brand. The users must feel that a brand is paying attention to their aspirations.
Keywords User; Subconscious; User- Interface; Emotion; Design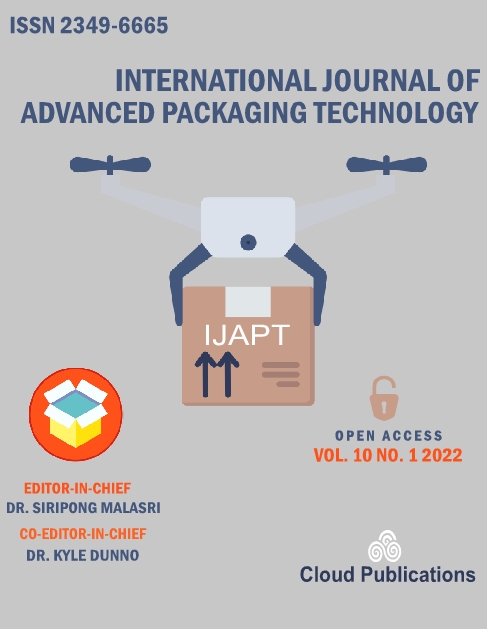 Downloads
How to Cite
Halder, S. ., & Kanth, N. . (2022). Design Application (A Case Study of Redefinition of Bacardi Rum Packaging): Case Study. International Journal of Advanced Packaging Technology, 10(1), pp. 334–345. Retrieved from https://cloudjl.com/index.php/Packaging/article/view/60
License
Copyright (c) 2022 Soumik Halder, Nitin Kanth
This work is licensed under a Creative Commons Attribution-NonCommercial-NoDerivatives 4.0 International License.